---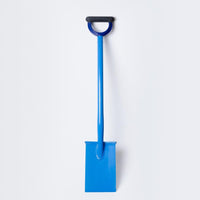 Garden spade made in Levin, New Zealand
Regular price $199.00
High tensile steel spade designed for gardening and digging. This vibrant blue spade offers superior strength, wear resistance and is guaranteed not to bend or break. A super tough nylon and rubber handle helps to eliminate hand, wrist and elbow shock. Perfect for landscaping or just around the garden.
The handle grip is made with a new vulcanized thermoplastic rubber for ultimate grip, comfort and durability. This special overmold substance will not break down with sweat, salt air or U.V and is non-slip in wet or dry conditions. It also has the lowest rating for muscular activity with less effort needed to grip, less muscle strain and less fatigue for the user.
A thinner blade than most spades means better penetration into the soil and less weight. 
Made in Levin, New Zealand.
Length of spade: 990mm
Blade dimensions: 270mm x 170mm x 3mm
Weight: 2.8kg
Shipping
Due to its size, this item is $18 to ship around Aotearoa New Zealand. We offer expedited shipping all over New Zealand. You can expect your purchase to arrive within 1-2 business days.
International shipping times are dependent on country.