---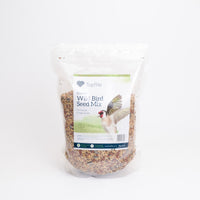 Wild bird seed mix, made in Oamaru, New Zealand
Regular price $8.50
Premium New Zealand-grown coarse seed mix, suitable for larger birds or areas where wind can blow away smaller seeds. High in energy and rich in essential nutrients, providing a boost for wild birds when food is scarce. Formulated for a wide range of birds, with health benefits for native birds in particular. Birds that visit a feeder regularly enjoy higher breeding success than those that don't. They lay eggs earlier, produce more eggs and their chicks weigh more.
Can attract the following: chaffinch, waxeye, dove, pūkeko, goldfinch, greenfinch, duck, goose, pigeon, kererū, rosella, pheasant, sparrow, swan, thrush, tūī and yellowhammer.
Ingredients: wheat, sorghum, canary seed, oats, barley, panicum, radish, weedseed, oilseed rape, sunflower.
Seed grown at Rosedale Farm, Oamaru since 1974.
1kg
Shipping
We offer expedited shipping all over New Zealand. You can expect your purchase to arrive within 1-2 business days.
International shipping times are dependent on country.