---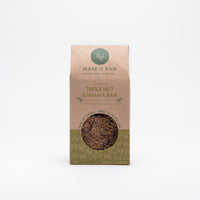 Make it Raw triple nut banana bar, made in North Canterbury, Aotearoa
Regular price $13.50
One of the best on-the-go healthy snacks we have come across, this triple nut banana bar offers long lasting energy, nutrient-dense nuts and fruit in one delicious bar. Almonds, cashews and brazil nuts combine to give you a good dose of vitamin E, magnesium and selenium combined with banana, coconut and cinnamon. Slightly sweet, wholesome and nutritious.
Ingredients: organic banana (33%), nuts (31%) (activated almonds, organic brazil nuts, organic cashew nuts), organic dried apricot (8%), organic coconut, organic cinnamon (0.1%), NZ sea salt.
Made in North Canterbury, Aotearoa
Shipping

We offer expedited shipping all over New Zealand. You can expect your purchase to arrive within 1-2 business days.
International shipping times are dependent on country.