---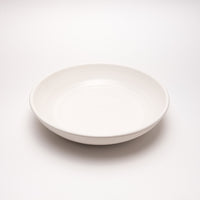 Serving bowl by Temuka Pottery made in Palmerston North, Aotearoa
Regular price $59.00
An ideal serving bowl made by the experts at Temuka Pottery. Beautifully simple, use this bowl to present large salads and sides on the dining table, or as an elegant fruit bowl. 
Dimensions: 27.5cm diameter x 5.5cm high.
Find more ceramics by Temuka Pottery here.
Shipping notes
Due to its size, this item is $18 to ship around Aotearoa New Zealand. We offer expedited shipping all over New Zealand. You can expect your purchase to arrive within 1-2 business days.