---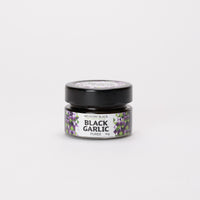 Neudorf black garlic puree made in Tasman, Aotearoa
Regular price $15.00
Neudorf Black's black garlic puree is the natural result of slow-cooking fresh garlic for weeks under controlled conditions. Made with 100% New Zealand garlic with no preservatives or additives. This black garlic puree typically has a stronger flavour than black garlic bulbs or cloves. Delicious as a condiment or spread, or stir into a risotto or mix through aioli for starters. 

Made in Tasman, Aotearoa
60g
About Neudorf Black
Based in the sunny Tasman region of New Zealand, nestled between the sea and the mountains, Neudorf Black is a member of the artisanal food and beverage community across Te Tau Ihu, the top of the South Island of New Zealand.
Inspired by ancient superfoods, their locally produced gourmet range strives to capture natural nutritional benefits while delivering an unrivalled taste experience. They believe anyone can create something special with exceptional flavour and nutrition. 
Neudorf Black is led by husband and wife duo, Noël and Teena Jelsma. Like many New Zealanders they believe that good food should not come at the expense of the planet.
Neudorf Black offset their operational emissions with certified carbon credits. These offsets grow and protect forests in Aotearoa and the Pacific Islands and help to deliver climate resilience, waterways protection, erosion control, biodiversity conservation and community economic development. Neudorf Black also uses a CarboNZero power company. They continue to look at ways to improve their sustainability as a small business.
Shipping

We offer expedited shipping all over New Zealand. You can expect your purchase to arrive within 1-2 business days.
International shipping times are dependent on country.