---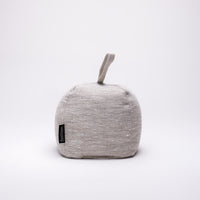 Linen doorstop made in Titirangi, New Zealand
Regular price $59.00
Neat doorstop made from 100% linen. This doorstop is filled with flax seeds and dried lavender flowers, both grown in Aotearoa. 
Dimensions: 14 × 14 × 14 cm
About flaxseed
Flaxseed is a crop that has been grown for hundreds of years for both its seeds and its fibre, which is used to make linen. Not to be confused with harakeke, New Zealand native flax, flaxseed (also known as linseed) is a slender annual plant which is harvested during late summer and early autumn; the capsule containing the seeds shatters, releasing them when they're perfectly ripe. The plant really loves CO2, which is one of the reasons it makes for a better fill than sand or gravel.
Shipping
We offer expedited shipping all over New Zealand. You can expect your purchase to arrive within 1-2 business days.
International shipping times are dependent on country.