---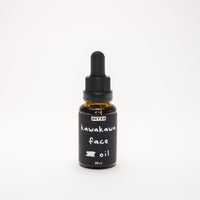 Kawakawa face oil by Aotea made on Great Barrier Island, Aotearoa
Regular price $70.00
Aotea's kawakawa face oil is deeply soothing and nourishing, treating a variety of skin ailments, especially, dry and sensitive skin.
Combined with hydrating and antioxidant-rich oils; jojoba, blackcurrant and grapeseed, this face oil can be used daily. An incredible formulation that truly nurtures and soothes the skin.
Kawakawa (macropiper excelsum) leaves contain bioactives, myristicin and diayangambin, which is scientifically proven to help reduce inflammation.
Handmade in small batches on Aotea Great Barrier Island. Product may vary slightly from batch to batch.

25ml bottle