---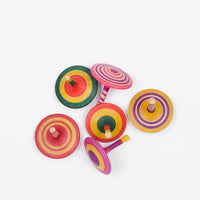 Spinning top made in Whanganui, New Zealand
Regular price $12.00
These colourfully decorated, hand-turned spinning tops have an excellent spin to them. Great for keeping children and adults amused and entranced, give one to your favourite child or keep it on the desk for serious thinking. 

Price is for one top. Colour combinations vary, but they're all charming. 
Crafted by Dave in Whanganui, these spinning tops are available exclusively at Frances Nation.
Shipping

We offer expedited shipping all over New Zealand. You can expect your purchase to arrive within 1-2 business days.
International shipping times are dependent on country.