---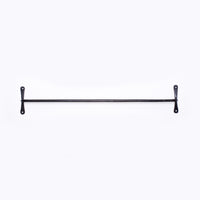 Utility rack made in Banks Peninsula, New Zealand
Regular price $75.00
Hand forged steel utility rack with a glossy black finish, excellent for hanging pots, pans and utensils in the kitchen. Also useful when installed in the laundry or bathroom for extra storage options. See our range of steel S hooks to use with this rail. 
62cm long, 11cm bracing, hangs 6cm out from wall. Four screws included. 
Expect some variation in appearance due to this item being hand made. This product is available exclusively at Frances Nation.