---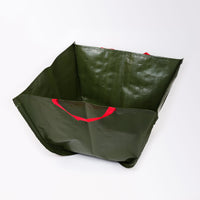 Gardeners' bag made in Auckland, New Zealand
Regular price $45.00
This bag has been a firm favourite with New Zealand gardeners for over 20 years. Its clever design allows it to stand open on its own as you pile weeds, leaves or lawn clippings into it. The bag can also be placed in the wheel barrow to increase holding capacity. Easy to lift and move around with comfortable strong handles, it can hold heavy loads such as firewood and has great durability.
Folds away flat after use. 
70cm x 70cm x 40cm
Shipping
Due to its size, shipping for this item is $18 throughout New Zealand.
We offer expedited shipping all over New Zealand. You can expect your purchase to arrive within 1-2 business days.
International shipping times are dependent on country.