---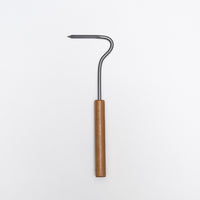 Garden hand hoe made in Springs Junction, New Zealand
Regular price $49.00
This finely crafted garden hoe is made by hand using NZ Beech and high carbon steel.
This garden tool has many uses, not just weeding. Use it to mix in fertilizer or compost, the sharp point easily penetrates the hardest ground to uproot the toughest weeds.
The sharpened tine allows it to be used on it's side to clear larger patches of weeds. The single tine is perfect for weeding around and in between desirable plants without damaging their roots.
Use it between paving stones or brick paths and for scraping moss from edging and borders. Use the back curve to plough a seed sowing trench and to trench alongside your seedlings to conserve water.
After use, clean the tool and store in a dry place. 
34cm long, 11cm wide
Shipping
We offer expedited shipping all over New Zealand. You can expect your purchase to arrive within 1-2 business days.
International shipping times are dependent on country.