---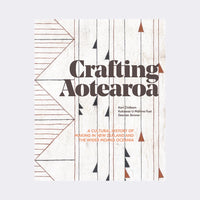 Crafting Aotearoa edited by Karl Chitham, Kolokesa Māhina-Tuai and Damian Skinner
Regular price $85.00
Crafting Aotearoa: A Cultural History of Making in New Zealand and the Wider Moana Oceania edited Karl Chitham, Kolokesa Māhina-Tuai and Damian Skinner
A landmark publication that takes another look at craft and its broader cultural role.
A major new history of craft that spans three centuries of making and thinking in Aotearoa New Zealand and the wider Moana (Pacific). Paying attention to Pākehā, Māori, and island nations of the wider Moana, and old and new migrant makers and their works, this book is a history of craft understood as an idea that shifts and changes over time. At the heart of this book lie the relationships between Pākehā, Māori and wider Moana artistic practices that, at different times and for different reasons, have been described by the term craft. It tells the previously untold story of craft in Aotearoa New Zealand, so that the connections, as well as the differences and tensions, can be identified and explored. This book proposes a new idea of craft – one that acknowledges Pākehā, Māori and wider Moana histories of making, as well as diverse community perspectives towards objects and their uses and meanings.
Hardback

, 496 pages, 26.5 

x 21.5

cm, published November 2019 
Shipping
We offer expedited shipping all over New Zealand. You can expect your purchase to arrive within 1-2 business days.
International shipping times are dependent on country.