---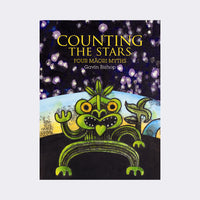 Counting the Stars by Gavin Bishop
Regular price $20.00
Counting the Stars continues to take traditional myths to a new level. Created by one of New Zealand's most talented and passionate children's book writers and illustrators.
A sequel to Taming the Sun and Riding the Waves, this stunning book contains four more Maori myths, including two well-known legends (Ranginui and Papatuanuku and Hinemoa and Tutanekai) and two less well-known legends (The battle of the birds and Kae and the whale).
Aimed at children 3-10 years, these myths are simply written and yet powerful. They're exciting and scary but each story is nicely resolved. Gavin allows the essence of the original myths to remain while also re-telling them for a new generation of children.
The illustrations are stunning - the different colour palette for each story and the strong mix of techniques create bold and beautiful images.
Shipping
We offer expedited shipping all over New Zealand. You can expect your purchase to arrive within 1-2 business days.
International shipping times are dependent on country.