---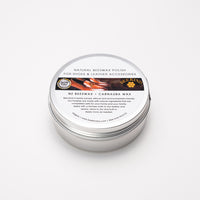 Boot and shoe polish by Bee Kind, made in Whakatāne, New Zealand
Regular price $25.00
A natural wax for conditioning and protecting leather shoes. Combining a traditional blend of unrefined beeswax, carnauba wax, plant oils and certified essential oils of orange and lemon, this soft and oily wax has a beautiful scent is a dream to apply.
Simply rub into leather and stitching using a cotton cloth. To finish, buff the surface with the same soft cloth and you will produce a protective shine. This wax will replenish the existing colour and help your shoes last longer. 
Aluminium screw top tin, 150g.
Made by Bee Kind in Whakatāne, Aotearoa.
Shipping
We offer expedited shipping all over New Zealand. You can expect your purchase to arrive within 1-2 business days.
International shipping times are dependent on country.