---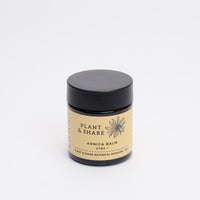 Arnica balm by Plant and Share made in Nelson, New Zealand
Regular price $17.50
Arnica and lavender have been used for centuries in herbal medicine. Use this balm to bring relief to bruising, swelling, muscle aches, inflammation and pain.
How to use: Gently massage into the affected area 2-4 times daily, or as needed.
Ingredients: organic sunflower oil, organic beeswax, spray-free coconut oil, organic arnica extract, organic lavender essential oil, Roman chamomile essential oil, vitamin E.   
Formulated for toddlers but suitable for all ages and great on sensitive skin. 
Made by Plant and Share in Nelson. 
Shipping

We offer expedited shipping all over New Zealand. You can expect your purchase to arrive within 1-2 business days.
International shipping times are dependent on country.