---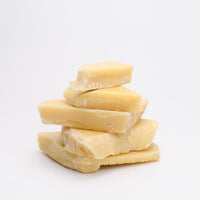 Pure beeswax made in New Zealand
Regular price $8.50
Chunks of raw beeswax sourced from bee keepers all over the country. Very popular with local primary schools and households for making waxed cotton reusable food wraps. This is good value at $8.50 per 100g. Can also be used to make candles, polishes, skin care and more.
Shipping
We offer expedited shipping all over New Zealand. You can expect your purchase to arrive within 1-2 business days.
International shipping times are dependent on country.