---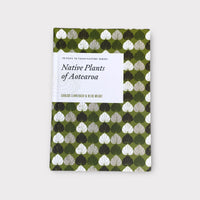 Native Plants of Aotearoa by Carlos Lehnebach and Heidi Meudt
Regular price $27.00
Te Papa Te Taiao Nature Series: Native Plants of Aotearoa by Carlos Lehnebach and Heidi Meudt
A handy introduction to the unique flora of Aotearoa New Zealand, for the backyard, bach, and backpack.
Part of the new Te Papa Te Taiao Nature Series, this accessible, handsomely illustrated guide to the commonly encountered native plant species of Aotearoa New Zealand has wide appeal.
Native Plants of Aotearoa describes and beautifully illustrates fifty of our most interesting and commonly encountered species. Written by Te Papa botanists, it includes useful descriptions on each species and insights into the museum's fieldwork and collections. The illustrations are from Te Papa's collections, based on sketches from fresh plant specimens collected by botanists Joseph Banks and Daniel Solander on board HMS Endeavour during the 1786–71 expedition.
Each book in this lightweight, hardback series – designed by award-winning designer Tim Denee – has a crisp look and feel, ideal for pocketing for tramps, or for using at home.
Hardback

, 132 pages,

18.4 x 12.5

cm, published October 2022. 
Shipping
We offer expedited shipping all over New Zealand. You can expect your purchase to arrive within 1-2 business days.
International shipping times are dependent on country.