---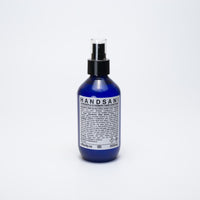 Lavender & rosemary hand sanitiser made in Wellington, New Zealand
Regular price $39.00
This alcohol-based hand sanitiser contains glycerin for moisture and rosemary and lavender essential oils. It smells and feels beautiful. We love this product more than other hand sanitisers based on its high quality ingredients, small batch production and strict quality control.
Organic food-grade ethyl alcohol derived from sugar cane, is diluted with distilled water to 75%w/v (80%v/v). Organic, palm-free glycerin leaves hands hydrated and the aromatic notes of lavender and rosemary create a lively, medicinal-floral effect in the air and mask the characteristic ethanol scent. 
Handsani is packaged in a light, durable recyclable PET spray bottle, 200ml.  
Shipping
We offer expedited shipping all over New Zealand. You can expect your purchase to arrive within 1-2 business days.
International shipping times are dependent on country.