---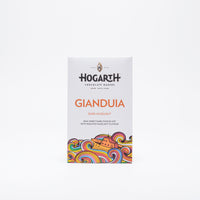 Hogarth Gianduia hazelnut chocolate made in Nelson, New Zealand
Regular price $10.50
Gianduia is a soft hazelnut chocolate combining 30% locally grown hazelnuts with Dominican Republic cacao. It is smooth and velvety due to the hazelnut oil lowering the melting temperature of the chocolate. 
The original Gianduia came from northern Italy. Legend has it that cocoa supplies were limited during the Napoleonic Wars so a chocolate maker in the Piedmonte region added roasted hazelnuts to supplement the cocoa, and Gianduia was born.
Ingredients: cacao, hazelnuts, sugar, organic cocoa butter.
Vegan, gluten free, soy free

70g