---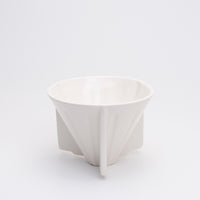 Taus ceramic coffee dripper made in Auckland, New Zealand
Regular price $49.00
Sit this slip cast single cup dripper on any style of cup to quickly produce a gorgeous smooth black coffee. Just pop a filter paper inside the dripper with a scoop of your favourite coffee and pour hot water allowing it to filter through into your cup.
Find 1-2 cup filter papers at your nearest supermarket - for best results we recommend using Hario V60 single cup filters. Use coffee beans ground for plunger or filter. 
Each piece is hand cast and fired in the Taus Ceramic studio in Auckland. We stock a matching coffee mug, also by Taus. 
Dishwasher safe.