---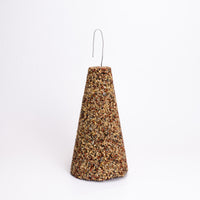 Wild bird seed bell made in Otago, New Zealand
Regular price $29.00
A premium mix of top quality New Zealand grown seeds to feed wild birds in your garden. Grown in the rich soils of Coastal Otago, this local seed provides birds with trace minerals and vitamins.
Ingredients: wheat, sorghum, canary seed, oats, barley, panicum, radish, weedseed, rapeseed oil, sunflower.

30cm high.

Shipping

We offer expedited shipping all over New Zealand. You can expect your purchase to arrive within 1-2 business days.
International shipping times are dependent on country.