---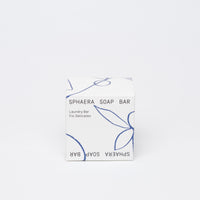 Laundry soap by Sphaera, made in Wellington, New Zealand
Regular price $18.00
This handcrafted natural laundry bar made by Sphaera in Wellington works brilliantly for hand washing delicate fibers like linen, wool and cotton. It also makes a great stain remover when the bar is applied directly to the garment. 
Fill a basin with cool or warm water and bring the soap to a creamy lather. Hand wash your garment according to its individual care instructions. For a deeper clean moisten the garment then apply the bar directly to the fabric. Rinse gently and thoroughly, then dry as the per instructions on label.
Scents of sweet orange, lavender and sandalwood. 
165g
Shipping

We offer expedited shipping all over New Zealand. You can expect your purchase to arrive within 1-2 business days.
International shipping times are dependent on country.